The Zydeco Dots, more commonly referred to just as The Dots, originated in 1987. Back then Zydeco music itself was advancing in popularity and The Dots were about to do their part. Although Zydeco music was born in southern Louisiana the music had been played in the gulf coast region from the Florida panhandle to south Texas since the early 1900's. Clifton Chenier (The King of Zydeco) gave the music its name and brought Zydeco to a new level. In Houston, Texas, during the mid 80's, the music was still relatively obscure. The Dots, based in Houston, brought Zydeco to venues where the music had never been heard before. Since then, The Zydeco Dots have won numerous awards and have been voted best Zydeco band by the Houston Press. The Dots have backed up many accordion players over the years including such notables as C J Chenier, Pierre Blanchard, Leon Sam, Pierre Stout, Wilfred Chavis, Lil Jabo, Ted Pacholik, Paul Richard, Lil Willie Davis, Lonnie Mitchell, Wilbert Thibideaux, and Promising new-comer Lil Pop's.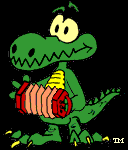 Accordion Player, Joseph Raymond Chavis, the bands main squeeze, is nick named Ray-Ray Chavis. Ray-Ray comes from a lineage of Zydeco musicians out of Louisiana, including the late great Boozoo Chavis, and Wilfred Chavis another Houston favorite.

Bassist Thurman Hurst was no stranger to zydeco music when he teamed up with The Dots in 89. Zydeco Accordionist, Wilbert Thibideaux was Thurman's next door neighbor as a young man when Thurman acquired a taste for the music.

Drummer, Joseph Rossyion, was born in Beaux Bridge La. The son of Zydeco Guitar great Joe "Black" Rossyion, was said to be playing zydeco drums when his Mom was giving birth.

Guitarist, Tom Potter, was weaned on the night life of the Jersey Shore. While attending college in Kentucky he teamed up with Mike Vowell (rubboardist) and Ted Pacholik (accordionist). Mike and Ted, growing up in the Chicago area, brought their Blues influences with them.

Rubboardist Mike Vowell
Tom, Mike and Ted migrated to Houston and formed the band which is now known as The Zydeco Dots. The rest is Houston music history! What makes this band so successfully popular? Is it because they not only play Zydeco, but R&R, R&B, C&W, and other varieties of music? Is it because of their lively stage personalities? Is it because they plug the sponsors all the time? Is it because they like to shoot the bull with the audience so they can take extra long brakes? Or is it because Viagra was invented? You be the judge!